MEET Patrick Nelson
Systems Administrator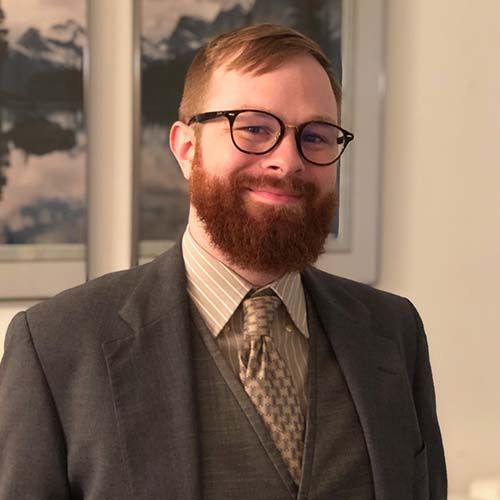 Patrick is a Systems Administrator supporting a wide array of projects including setup and support of end user workstations, maintenance of server and network infrastructure, and development of computer architecture solutions for internal and external customers. He is a graduate from Washington State Vancouver with a business degree in Management Information Systems (MIS).
Prior to joining PLEXSYS, Patrick was an Information Technology (IT) consultant with small businesses. He started with PLEXSYS as an IT intern in 2021, and was hired full time in January 2022. His choice to work for PLEXSYS was originally due to location and the use of well-equiped technologies. He has stayed with PLEXSYS because he likes the company culture and enjoys the work that he does.  
"The IT team is very cooperative, helpful, and close-knit. Overall, the community-based culture, the friendliness, willingness to work together, and the respect people show one another are wonderful. Certainly it was not what I was expecting from a larger company," stated Patrick. "I was not expecting the leadership team to be as accessible as they have been. The fact that I know that the leadership team is personally involved with and connected to their employees is a great comfort."
Patrick has worked on several products in his time at PLEXSYS, including constructing and configuring an Secure Shell Protocol (SSH) for the security team. The project is a great success and is now internet facing which brings insights into the types of attackers that the firewall eliminates.
Outside of work, Patrick likes to read, learn new skills, play video games, and exercise. He prefers to read historical books, philosophy, & classic works. PLEXSYS is proud to have Patrick on the team!
OUR PEOPLE. OUR PASSION. OUR CULTURE.
Many employees at PLEXSYS have the same background as our customers, working in the same environments as those who use our products. That's why we're highly successful at building products they need. We have the unique, real-person responsiveness of a start-up paired with over 30 years in business. Our people are our passion, and we are proud of what we do.
At PLEXSYS, we understand how important it is for you to reach your ambitious, long-term goals, to gain satisfaction from doing a job well, and contributing to an organization's success. We encourage our team members to develop themselves to their fullest potential and build their skills to meet new opportunities by pursuing the career path that most interests them. These goals are accomplished within the framework of our business practices, which provide a map employees can guide their career development with.