MEET Tyler Coy
Software Engineer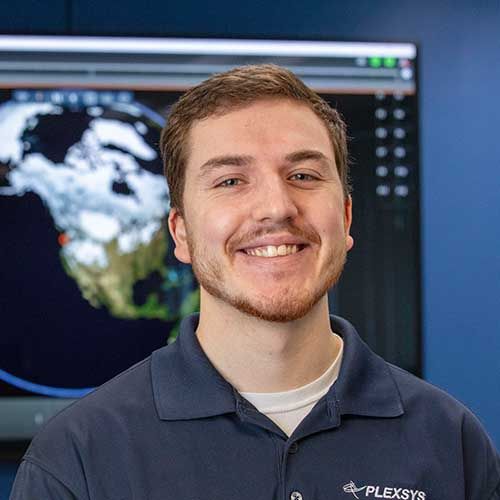 Tyler joined PLEXSYS in 2020 as a Junior Software Engineer at the Camas, Washington headquarters. After graduating from Washington State University (WSU) Vancouver with a bachelor's and master's degree in Computer Science, Tyler worked as a graduate teaching assistant at WSU Vancouver, teaching freshman-level computer science courses. 
As Tyler finished college, he discovered PLEXSYS and the products the company created for various types of customers worldwide.  
"I thought this was exactly what I had been looking for since high school. PLEXSYS [headquarters] was also close to home, and I didn't want to move away from the Pacific Northwest." 
Since joining the PLEXSYS team, Tyler says he's grown significantly as a professional with the company, including his promotion from a Junior Software Engineer to a Software Engineer.   
"PLEXSYS has allowed me to take up more responsibilities and has shown me what professional software engineering is like outside of school, [and] has given me more confidence as a software engineer. PLEXSYS also encourages employees to take some time to learn various skills, from coding to management, which helps me continue to grow in my skills as a software engineer." 
While away from work, Tyler enjoys hiking mountains, playing tennis, or watching a new movie.  
OUR PEOPLE. OUR PASSION. OUR CULTURE.
Many employees at PLEXSYS have the same background as our customers, working in the same environments as those who use our products. That's why we're highly successful at building products they need. We have the unique, real-person responsiveness of a start-up paired with over 30 years in business. Our people are our passion, and we are proud of what we do.
At PLEXSYS, we understand how important it is for you to reach your ambitious, long-term goals, to gain satisfaction from doing a job well, and contributing to an organization's success. We encourage our team members to develop themselves to their fullest potential and build their skills to meet new opportunities by pursuing the career path that most interests them. These goals are accomplished within the framework of our business practices, which provide a map employees can guide their career development with.